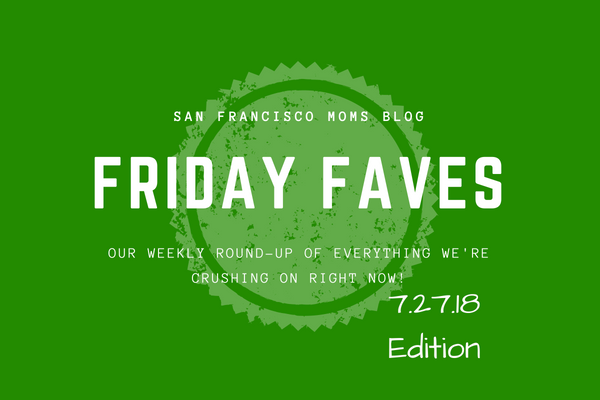 Happy Friday, friends! Can you believe this is the last weekend of July? Summer is flying by, and my son is turning two in FIVE days! Not that I'm counting down or freaking out or anything 🙂 My plan this weekend is to slow down, try to stay present in the moment and give my little man some extra snuggles. I've gathered a few links in case you'd like some light reading as we head into August together. Have a wonderful weekend!
P.S. If you missed my stories on Instagram during my trip to Colorado for the 2018 Chevrolet Crossover Road Show, stay tuned for my full post about our adventures in the mountains coming to the blog soon.
I don't know about you, but I was incredibly unprepared for the fourth trimester. I wore a lot of Depends, used an insane amount of nipple cream, and learned first hand what a bladder prolapse (something I previously didn't even know existed!) feels like. Many women face physical or emotional challenges after childbirth, but it can feel awkward or embarrassing to talk about. This article really resonated with me, and I'm so glad there's beginning to be more of a dialogue about the realities of postpartum life!
I know July is coming to a close, but I was inspired by this post about a plastic-free July. We use reusable straws at home, but I need to get better about bringing them with me when we go out, especially since SF is moving towards banning plastic straws (yay!). Another easy way I avoid single-use plastics is by bringing my own produce/bulk bags to the grocery store. I have this set and love them!
Last week I shared that Love and Ruin was one of the books up next on my reading list. I finished it on our trip and it was so, so good. I highly recommend it! After I finished it, I was on a roll and read this book in 2 days. It's also historical fiction, and it's light and sweet.
Speaking of sweet…
I have a serious thing for 'smores, but I'm currently in the middle of SOMA, with no campfire in sight. I might just have to try something new, make these s'mores bars, and see how they live up to the real thing. Bonus- they're vegan and refined sugar-free.
While we're on the subject of irresistible summer treats…I can't think of a better combo than peaches and bourbon, can you? Planning to make this summery "smash" this weekend.
Last but not least! I found this link over the blog's break and have been dying to share it with you! One Sky is "a collaborative project with almost 90 artists and one instruction: look up." All of the drawings are so unique and moving; I'd love to hear which ones you're particularly drawn to.
Add Your Input to the Discussion!
In case you missed it, here are the week's posts from San Francisco Moms Blog and Mid-Peninsula Moms Blog.
Meredith enjoyed a one week staycation with her husband while her in-laws looked after the kids! See how she coordinated this genius arrangement, why it's a must do, if you can, and what changes she's making now that the kids are home.
We asked a pediatrician to fill us in on ticks and Lyme Disease. Here's how to avoid getting bit, what to do if you do find a tick, and when you should and should not worry.
Andrea tells us why apologizing to our children will make them more polite and empathetic humans in the long run.
Kelly, our resident baker, raves about this creative book full of easy ways to make impressive cupcakes. It's full of step-by-step pictures, easy enough for non-readers to follow!
Three of our writers tried out Britax's new Essentials line of car seats and shared their thoughts. Personally, I love that the seats are a lower price point than their other lines making safe car seats more affordable!
Tapped out on fun things to do with the kids this summer? Amy steps in with 5 ideas you may not have thought of.
I am tired just reading Alessandra's account of what it takes to breastfeed and pump for her twin infants. Peek into life with twins or comment with an encouraging word if you, too, are a mom of multiples!
Kate loves being a stay-at-home mom but admits it's not only easy. Here are her tips on how to make the most of the opportunity.
Lighten your load when traveling with your school-aged kids. Pack inflatable booster seats, rather than lugging bulky plastic ones. Meredith tells us all about BubbleBum's inflatable boosters.