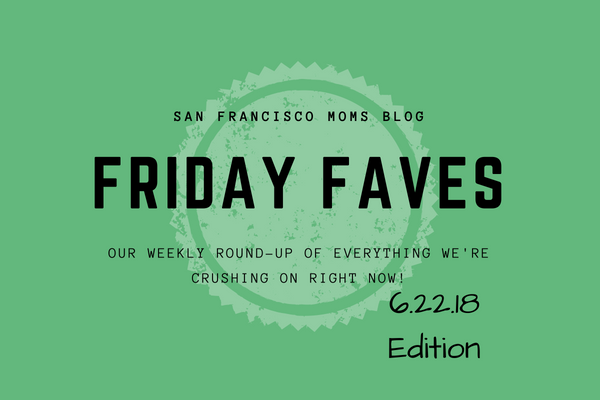 Welcome to the weekend, friends! Did you know yesterday was the Summer Solstice? The solstice marks the first official day of summer, with the longest day and shortest night of the year. In case you aren't already fully embracing summertime vibes, now's the time! We have a low key weekend planned, filled with two toddler birthday parties and hopefully some outdoor exploration. Fingers crossed for sunny, clear blue skies and some much-needed relaxation before more summer travel next weekend.
Before we dive into some light links from around the web, I want to acknowledge the immigration issues you've undoubtedly read about this week. Although I can't really share political opinions here, the separation of immigrant families weighs heavy on my mind, and my heart goes out to all the families who have been affected.
Some sweet news to help you cope with the more troubling headlines- The Great British Baking Show returns tonight for season 5! I think we all need a little Paul and Mary in our lives this week.
What are your summer travel plans? Do you vacation in the same places every year or do you like to mix it up? If you're looking for some new kid-friendly travel inspiration, check out this list. I would add Austin to the list (it's super hot in the summer but such a fun place!), as well as Newport Beach and Portland, Oregon.
One of my favorite places in the City is the Botanical Gardens, and in two short weeks, the Flower Pianos are back! If you have never been, it is very family-friendly and not to be missed!
Does your toddler have a hard time taking a break from playing to go to the bathroom? Mine does! Thanks to Daniel the Tiger, we now have a fun song to help remind him to stop and run to the potty. Warning- it will get stuck in your head!
In case you missed it, here are the week's posts from San Francisco Moms Blog and Mid-Peninsula Moms Blog.
I love Wendi's honest take on the pros and cons of having kids in her 40's. How old were you when your first child?
We've created neighborhood groups for eight towns on the Peninsula. Find yours or let us know which ones we should add!
Spend July 4th at the Woodside Junior Rodeo cheering on young riders as they compete in classic rodeo events. We're giving away a free lunch for four. Enter by this Friday at midnight!
I gathered some of my favorite memes about the struggles of feeding kids because this is truly the bain of my existence. What about in your house? Share your secrets!
Inger spent a ton of time in traffic over Memorial Day (like, three hours to go ten miles), so she got well acquainted with the features of the GMC Yukon Denali that she test drove for us. Here's what she had to say.
Laura pulled together eight different suit options to compliment the part of your body you want to show off the most this summer.
Elisa breaks down the simple steps we can all take to send less trash to landfills. If we all do our part, we can make a major impact and teach our kids how to take care of the environment.
Annabelle shares her four tips to instill healthy food habits into your children. They're watching everything we do, even how we eat!
[/vc_row]