My family of 4 (including a 14 and 16 year old) recently stayed at Cardiff Vacations in Cardiff, California. We were in desperate need of a getaway after the "year of the pandemic" and this was perfect. We drove down (just over a 6 hour drive) because we are still being COVID-19 cautious and liked that we would be in the upper level of the house rather than in a more heavily populated hotel. This also allowed for us to purchase groceries and utilize the fully equipped kitchen rather than venture out.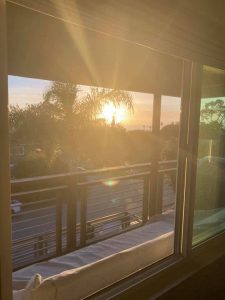 The views of the Pacific were amazing, especially the sunsets. There was also a fun little park practically out the front door (basketball court, pavilion, picnic tables, playground, tennis court) and the beach was just beyond that. In fact, the first day we arrived, my husband and son immediately took off to the beach to explore.
You are very close to San Diego and we did drive to the La Jolla tidepools on one day. If our teens had wanted too, we could have easily gone on to the zoo and partake in all of the amazing things that the area has to offer. We decided to stay local and explore everything that was in the area, mainly because Julio, the owner of Cardiff Vacations, provided us with a list of amazing adventures. A note though: always be sure to check times and availability, especially during COVID-19 restrictions.
The Cardiff State Beach
Right off Highway 101, this beautiful San Diego beach is convenient and easy to get to. The beach has two, day-use access points, one in the South end known as Seaside Beach, which is a popular destination among surfers, and the other one in the North, right at the entrance to the San Elijo Lagoon. It is a family and dog-friendly beach and parking spots are quite easy to find.
If you're traveling with your kids, they'll surely love to check out the tide pools. When the tide is out the reefs expose themselves and you'll have the chance to admire the tide pools and discover all sorts of interesting sea creatures there.
The San Elijo Lagoon Ecological Reserve
One of San Diego's largest wetlands, this 979-acre reserve is located in Cardiff-by-the-Sea, Encinitas. It is a very important natural habitat as it provides critical migrating waterfowl habitat and nesting sites for sensitive bird species, provides nursery habitat for young fish, and generally protects a tremendous diversity of plant and animal species.
Here you can go on a hike and enjoy the spectacular views of the surrounding wildlife and your kids can have a fun time participating in the TRACK Trails, a nature-themed scavenger hunt for kids to win prizes online.
The San Diego Botanic Garden
The San Diego Botanic Garden is one of Northern California's most stunning natural attractions. Located in Cardiff-by-the-Sea, Encinitas, containing more than two dozen themed gardens situated along four miles of gorgeous trails. Your kids can have the best time in the children-themed gardens.
The Seeds of Wonder Children's Garden is perfect for youngsters. Here your kids can play with tubs of soapy water and wands and make bubbles, can have a great time in the child-sized play house, and play with trains on a model railroad track that goes through the garden.
On the other hand, the Hamilton Children's Garden is better suited for bigger kids. Here, you can play a giant game of tic-tac-toe, as a family, wander through a labyrinth made of feathery plants, and climb the centerpiece treehouse. To cool off on a hot summer day, children can play with toy boats and cool their tootsies in a miniature stream.