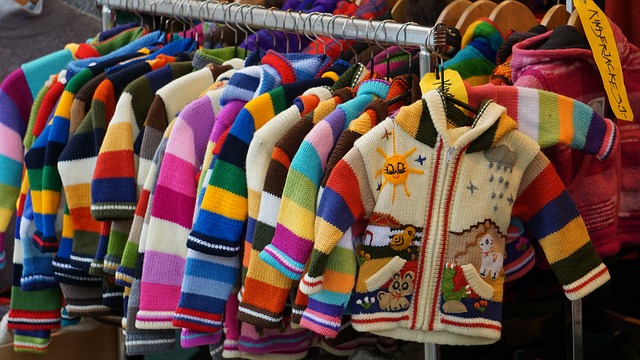 Confession: I'm obsessed with children's clothing. If I thought I had a shopping problem buying clothes for myself, I was totally wrong. As soon as I found out I was pregnant with the twins, it took every ounce of self control for me not to go nuts online.
I managed to contain myself until I found out the twins' gender: a boy and a girl. GAME ON! I'm pretty sure I drove directly to the local baby boutique after the anatomy scan to make my first clothing purchase. I picked out the CUTEST Kickee Pants sets to bring the twins home from the hospital in. I'll be the first to admit it was an extravagant purchase for a couple of infants, but I let it by my "special occasion thing."
Now that I know that 1) kids get really dirty, 2) kids grow really fast, and 3) kids clothes are expensive, I've found a new way to satisfy my addiction: shop second hand.
Shopping secondhand isn't just cheaper; it's way more environmentally friendly. I've become a second-hand shopping PRO. Not only am I going to share all the best tips for shopping secondhand, but I'll even throw in a few tips for reselling your kids' clothes as well.
Shopping Secondhand
You have two main options when it comes to secondhand shopping.
1) Shop at local consignment stores
2) Use online resell platforms.
Local Secondhand
My all-time favorite secondhand shop EVER is Monkei Miles in the Sunset. Monica keeps the most beautifully curated shop of gently used kids items from the trendiest brands. She does an excellent job at stocking the racks with items in all sizes and seasons. Almost everything is less than $15. I've found some steals like Converse sneakers for $9 and Hanna Andersson jammies for $6. Monica often has buy 3 get 1 free sales as well! You can also sell your items to Monica (either shop credit or cash) and get paid upfront which is incredible.
This traditional consignment store is both great for selling and buying. Drop off your bag of items and they have 28 days to sell. Any unwanted items can be donated to local churches/charities (versus ending up in a landfill). My favorite items to buy at Chloe's are toys! This shop does a great job at stocking various scooters, blocks, cars, play kitchens, books and more.
Online Secondhand
This app/site is my favorite when I'm shopping for specific brands/items. You can also create saved searches so you can keep tabs on any newly posted Tea Collection rompers in your kid's size. I also LOVE using this app to shop for shoes. Kids shoes are so expensive, and they don't always get to wear them that long. I've scored Natives, Keen sandals, and Converse sneakers all under $15 from sellers on Kidizen. I've also had luck selling items on here.
This is SUCH a cool way to shop secondhand. You select the types of items you need and the sizes and the team at Kids on 45th packs up a box for you—all the items are a surprise! I recently ordered 19 items, a mix of shirts, pants, and sweaters, and the whole box was only $40. You're not going to get fancy brands through this service but you'll get great basic items perfect for school or daycare. You can use this code (SZMVNWWK) for $10 off!
Facebook B/S/T Groups
B/S/T stands for Buy Sell Trade and these types of groups have become uber popular on Facebook. The groups are typically brand specific and offer a way for fans to BST items. I LOVE this because it again keeps clothes out of the landfill and gives them more life. I fell in love with a shop called Figge at the craft fair at Fort Mason weeks after the twins were born. Carly makes all her items from deadstock fabric that would otherwise go to waste and she employees local seamstresses in LA to sew her designs. I love being in the Figge BST group because I can support a brand I love in a more affordable way. (Fun fact: We now visit Carly every time she comes to town for the craft fair and always dress in Figge!)
Have you ever shopped secondhand? Before shopping secondhand for the kids, I was already an avid buyer and seller on Poshmark. I love that there are so many options now to make secondhand shopping more fun and accessible.