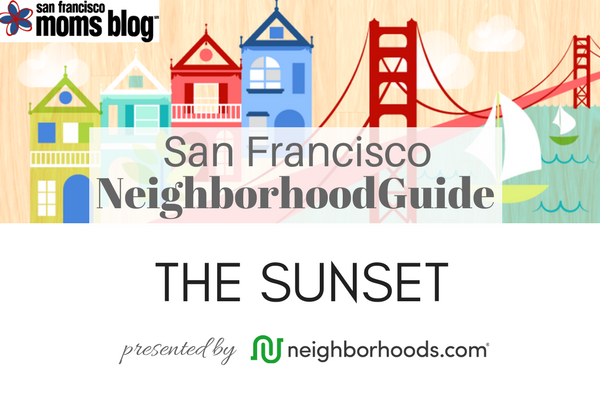 The Sunset District encompasses the west-central section of the city, south of Golden Gate Park, and it's the largest neighborhood in San Francisco. West of 19th Avenue is considered Outer Sunset and east is Inner Sunset. Some residents will also argue that the area between 19th Avenue and Sunset Boulevard is actually Central Sunset. The entire area is primarily residential with plenty of single-family homes housing long-time Sunset families and newcomers to the city. College students and surfers also make Sunset their home for its proximity to the beach and UCSF. In the summer months, this area is generally fogged over, but nothing can beat watching the actual sunset from Turtle Hill.
We polled local moms to find out what makes this neighborhood a good fit for their families. Want to get the scoop directly from the experts? Join our Sunset Neighborhood Group or reach out to a realtor at Neighborhoods.com.
Why Moms Love It
The fog and farther distance from downtown have traditionally kept the cost of living lower in this area of the city making it more affordable to raise a family here. Plus, single-family homes on slightly larger plots of land increase one's chances of landing a home with a private outdoor play area for kids. Irving, Judah, and Noriega Streets are the primary corridors for shopping and dining in the district. It's easy to walk around the area, but because of its large area, you'll also find yourself using your car more than in more condensed sections of the city.
Local Family Favorites
Making up the Sunset Districts northern border, spending time in Golden Gate Park is a way of life for many Sunset residents, whether it's biking or strolling along winding paths, visiting the buffalo at the Bison Paddock, feeding ducks or boating at Stow Lake or exploring one of the other attractions within the park.
Koret Children's Quarter Playground & Carousel
This is said to be the oldest public playground in America and is always full of local and visiting families stretching their legs or taking a spin on the well-known carousel. It's located in the southeastern section of the park.
California Academy of Sciences
This is a go-to spot on rainy days for the toddler room, rainforest exhibit, and large aquarium with hands-on activities. If you plan to come even just a handful of times a year, the annual membership is worth it.
The museum offers programs for kids of all ages including toddler tours, art classes after school, summer camp, and a Saturday Studio Series. Join us every Saturday for our free Family Art Making.
San Francisco Botanical Gardens
Regular activities like children's story time and special events like Flower Piano mean families spend a lot of time in this beautifully maintained urban oasis showcasing 8,500 different kinds of plants from around the world.
45th Avenue Playground
This is an older playground at the edge of Golden Gate Park in the Outer Sunset, but your kids won't mind. They'll love the large boat anchored in the sand and several climbing structures and slides will tire your kids out in no time.
Playgrounds, Parks & Attractions
Located in the Golden Gate Heights section of Inner Sunset, this playground has a nice clubhouse that's popular for birhtday parties and the large play structure will have your kids running to play as soon as you arrive. Tennis courts and basketball courts make this a popular community gathering spot.
Sunset Heights Playground
This tiny parklet in the Golden Gate Heights section of Inner Sunset has trails to explor, swings, and a tennis court.
Inner Sunset Farmer's Market
Every Sunday, this Farmer's Market is bustling, as locals browse the stands full of fresh produce, meats and fish, flowers, and everything in between.
Grandview Park (aka Turtle Hill)
Another great green space in Inner Sunset is this hilltop park is Grandview Park, where, as you might have guessed, you'll enjoy views of the Golden Gate Bridge and a panorama of San Francisco. It's a steep hike to get to the top, but it's worth it. The tiled steps on Moraga St. between 15th Ave. and 16th Ave. are a must do for perfect family photo ops.
Known as "airplane park," kids used to play on an old Vietnam War-era fighter jet. The park is under renovation and the plane is rumored to be coming back.
Sunset Rec Center
The large rec center in Outer Sunset has indoor courts, the large play area has two separate play spaces to safely accommodate big and little kids, and the baseball diamond is a popular spot locale for local leagues.
Ocean Beach is the western border of the Sunset. It's a large, sandy beach where you'll find surfers, wakeboarders, and kiteboarders taking advantage of the chilly Pacific water. There's plenty of space to set up a blanket for the day with the kids, though you'll need to keep an eye on them near the water since it's usually pretty rough. Grab lunch across the street at the Beach Chalet or Park Chalet.
At the southern border of Sunset is the Sigmund Stern Recreation Grove, a full outdoor recreation complex with athletic fields, courts, a children's playground and dog play area. It's best known for its free summer concert series, the Stern Grove Festival.
Many San Franciscans are annual members at the zoo because of its fun holiday events, huge playground area, and the family farm petting zoo.
Activities & Shops
Music for Aardvarks and Other Mammals is a hip alternative to the traditional 'mommy and me' music class for babies, toddlers, and preschoolers. The spirited group classes last for 45 minutes and are geared toward children 4 months to 5 years old and their adult caregivers.
Join award winning, fun music classes for newborns through 5 years old. Your child will learn pitch and rhythm, get hands-on time with age-appropriate instruments, dance and sing in a research-based, nurturing setting.
AcroSports is a staple in the Inner Sunset, offering gymnastics and tumbling classes for children 15 monts+ and adults.
Paresh Martial Arts
This popular family martial arts center in Inner Sunset offers classes for children 3 years old and up, including family classes where you and your kids can participate.
Hosting classes in Golden Gate Park and at the San Francisco Zoo. Sign your kids up for soccer and basketball themed child-development classes and a soccer scrimmaging league for young children. Soccer is for kids ages 18 months to 6 years old, and the Hoops program is for children 2 1/2 to 6 years old.
This well-known consignment shop is a great place to find barely used, name brand children's clothing. It's a gathering spot for moms and with toys to keep the little ones busy while you hang.
Childcare and Schools
Here's the thing about childcare and schooling: Your personal situation will determine the right fit for you, and, while there are plenty of options in this neighborhood, your best bet is to check out Winnie.com for an interactive map and comprehensive list of daycares and preschools across the city.
Likewise, for K-12 schools, we can't tell you whether the schools here are "good" or not because a good school is based on so many other factors besides test scores. Check out our Tips for Moving to San Francisco with Kids for more help navigating childcare and schooling and a local mom's take on raising a family in San Francisco.
Learn More
Visit Neighborhoods.com
for photos and more helpful details on the Sunset and nearby neighborhoods, including an up-to-date listing of properties for sale.

Neighborhoods.com is a full service brokerage and an easy to use online real estate resource that helps people find the perfect home as well as the ideal neighborhood. We believe that the neighborhood you live in is just as important as the home you live in. The people, places, schools and amenities that surround your home have an enormous impact on your quality of life. When you're looking for a place to live, you aren't just picking out a house. You are also deciding who your children will play with and who you might become friends with. So while many people search for their dream house, we believe you should look for your dream home. And your neighborhood is a huge part of that dream.