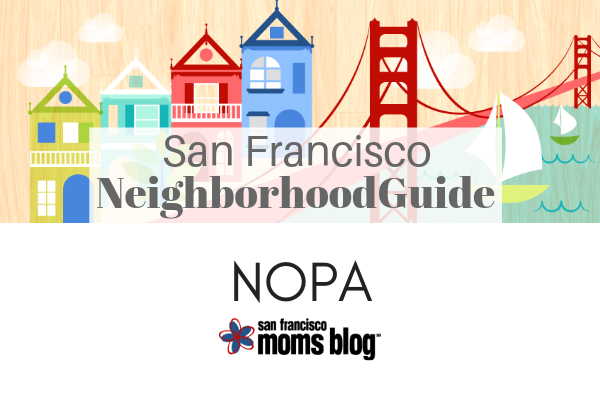 NoPa is a tiny section carved out of the larger Western Addition neighborhood. It's named after its location, the streets sitting north of the panhandle (the narrow eastern strip of Golden Gate Park). It's a trendy area with popular, highly rated bars and restaurants along Divisadero Street, its eastern border, and rising costs because of its prime central location within the city. You'll also find college students in the area, as the University of San Francisco makes up the neighborhood's western border.
We polled local moms to find out what makes this neighborhood a good fit for their families. Want to get the scoop directly from the experts? Join our NoPA/ Haight-Ashbury Neighborhood Group.
Why Moms Love It
Moms love that this is a small, residential neighborhood also contains two commercial corridors: Fulton Street and Divisadero. It's easily walkable to other neighborhoods like Haight-Ashbury, the Lower Haight, Hayes Valley, or to daily conveniences like Target and Trader Joe's. Plus, the college residents in the area make for an abundance of babysitting options.
Local Family Favorites
Try not to sing the theme song from Full House when you come upon the famous view of the historic Painted Ladies Victorian homes and downtown skyline behind them. The entire park was recently renovated, including the playground that gives you prime views while you watch the little ones play.
A short walk along the panhandle takes you to Golden Gate Park proper and all that it has to offer whether it's biking or strolling along winding paths, visiting the buffalo out at the Bison Paddock, feeding ducks or boating at Stow Lake or exploring one of the many other attractions within the park.
Koret Children's Quarter Playground & Carousel
This is said to be the oldest public playground in America and is always full of local and visiting families stretching their legs or taking a spin on the well-known carousel. It's located in the southeastern section of the park.
California Academy of Sciences
This is a go-to spot on rainy days for the toddler room, rainforest exhibit, and large aquarium with hands-on activities. If you plan to come even just a handful of times a year, the annual membership is worth it.
The museum offers programs for kids of all ages including toddler tours, art classes after school, summer camp, and a Saturday Studio Series. Join us every Saturday for our free Family Art Making.
San Francisco Botanical Gardens
Regular activities like children's story time and special events like Flower Piano mean families spend a lot of time in this beautifully maintained urban oasis showcasing 8,500 different kinds of plants from around the world.
Geared toward children ages 5-11 years old, the Renegade Girls Tinkering club runs exciting summer camps and afterschool programs that bring science, technology, engineering, and math concepts to life through fun hands-on project. Girls only, boys only, and coed programs are all available.
Baseball games are particularly easy to watch, as the stadium sits off of Mason Street on the western border of the neighborhood. Inexpensive tickets, easy to access seating and a very friendly staff will make you and your family feel welcome and excited to cheer on the Dons.
For such a tiny area, the restaurant choices are great, but charming Manitas is a local favorite. Stop for espresso drinks and deli sandwiches or for their breakfast and lunch menus straight for their Salvadoran kitchen.
Childcare and Schools
Here's the thing about childcare and schooling: Your personal situation will determine the right fit for you, and, while there are options in this neighborhood, your best bet is to check out Winnie.com for an interactive map and comprehensive list of daycares and preschools across the city.
Likewise, for K-12 schools, we can't tell you whether the schools here are "good" or not because a good school is based on so many other factors besides test scores. Check out our Tips for Moving to San Francisco with Kids for more help navigating childcare and schooling and a local mom's take on raising a family in San Francisco.
Learn More