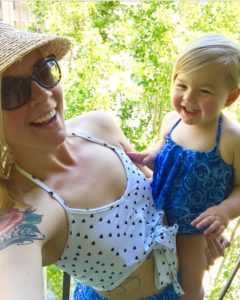 I caught up with Natasha Gatto, owner and swimwear designer for Gattina, to get the inside scoop on how to pick the perfect swimsuit for your body. Gatto ships her bathing suits and beach cover-ups world-wide from her home base in Hamilton, Ontario,
Many postpartum moms share similar concerns about their "trouble zones:" post-baby bellies, bigger hips, large and heavy breasts, or post-breastfeeding deflated breasts. One of the main points that Gatto wanted to drive home during our interview was that covering up from head-to-toe isn't necessarily the answer. "Newsflash: no one has a perfect body! I love when I see a woman showing some skin and having a good time," Gatto says.
She suggests picking your favorite feature and finding complimentary pieces: "If you love your legs, opt for something with a higher-cut on the thigh; if you have a cute bum, cheeky-style bottoms are all the rage; if you've got great boobs, let that cleavage run wild." Of course, there are lots of options to help draw attention away from areas we aren't as fond.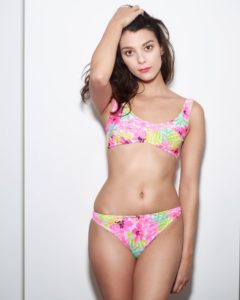 CHEST
A halter or bra-style top will lend support to larger busts, while this season's hot trend – frill! – helps add volume for women feeling deflated after they've finished nursing.
TUMMY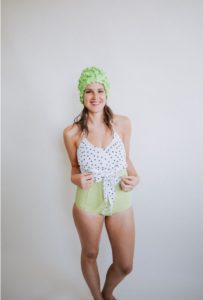 Women who don't yet have the confidence to rock those "tiger stripes" (i.e. stretch marks) can try a high-waisted bikini bottom to lend some extra coverage. I am in love with the high-waisted bikini bottoms from Kortni Jeane. After my pregnancy, my waist migrated north on my body. Kortni Jean offers the first extended high-waisted bottoms that I've found, and they actually make it all the way up to my waist!
Bonus: Kortni Jean makes little gal-sized swimwear in all of the same patterns as the regular gal-sized swimwear, which means mamas can match their littles poolside! My daughter and I splashed our hearts out in our matching sets on our balcony this past weekend, as you can see in the picture at the top of this post.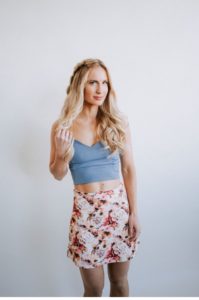 HIPS, THIGHS & BOOTY
Kortni Jean also makes stylish, a-line skirt bottoms that lend extra cover to the lower half, without invoking thoughts of geriatric swimwear. On the other hand, bottoms with a higher-cut on the thigh actually make legs look longer, in line with Natasha Gatto's reminder that covering up doesn't have to be the answer.
TRENDING
Natasha gave me some major insider tips on fashion-trends this season as well. After all, moms deserve to look good and be fashionable at the beach!
The One-Piece, Off-the-Shoulder, and Frills.
"Please – no more tankinis!" Gatto insists. "One-pieces are really on trend, and so is anything off-the-shoulder. I am in love with an off-the-shoulder one-piece with a huge frill this summer. The frill makes your waist look tiny, and virtually everyone has sexy shoulders – especially moms who lug their children around all day!" You can find eighteen hand-selected, on-trend, flattering one-pieces here.
Plunging Necklines & Mix-and-Match Patterns.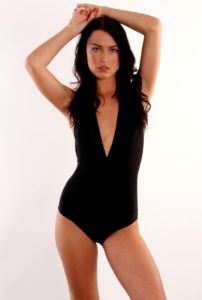 "If you can't go strapless, achieve a similar effect with a plunging v-neck with frill on the neckline." Natasha also mentioned that mix-and-match prints can be very youthful and fun. "As long as you stick within a similar color pallet, you can try out lots of combinations," she says. "I love a fun floral print with a simple stripe or polka dot. It's a great way to mix things up!"
Gatto's top pick from her swim line this year is the 'Alexandra.' It's a high-waisted, one-piece halter with a plunging v-neck – incredibly flattering on any body shape, and perfectly trendy for this season. "This is a sexy one-piece that hides everything you want while still showing some skin," Natasha says.
Confidence in Whatever You Choose to Wear.
The last thing we talked about was confidence, because, I get it – our bodies have changed after giving birth. Things have moved, shifted, grown, shrunk, and become a prisoner to gravity. Moms often have less time to spend on their fitness habits, and putting on a bathing suit can be a daunting task. But Gatto left me with some inspiring last words: "Finding swimwear that makes you feel confident will help you to relax and truly enjoy yourself and your family. Your energy will rub off on others – the minute you stop caring about your flaws, so will everyone else!"
Find your most flattering swimsuit from my favorite shops:
Check out some other mom tested and approved stylish swimwear brands and styles:
Seafolly Goddess Boy Leg Maillot One Piece
Ruched Femme One Piece by J Crew