This post is sponsored, but the opinions are 100% our own.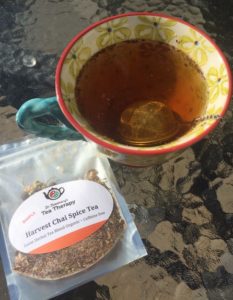 I've never been a big coffee or tea drinker. My rule for drinking coffee is that it has to contain either chocolate (as in a Mocha) or whiskey (as in an Irish coffee), and even then, I usually prefer sipping a thirst quenching bottle of water. When it comes to tea, I avoided it completely, envisioning the bitter Earl Grays my dad drank when I was growing up. So while I always wished I had a use for the beautiful tea cups I got as a housewarming gift, hot drinks were just never my thing, and the iced versions didn't find a place in my beverage rotation either.
Then, I tried Dr. Rosemary's organic herbal tea blends, and now I'm hooked. Not only am I totally into these teas, but my husband is, too. Last Friday, we enjoyed a bottle of wine after the kids went to bed. Our usual M.O. would be to open a second one, and, most likely, regret it the next morning. Instead, we made ourselves a cup of the tea. I think we've officially leveled up to a new stage of adulthood.
Here's why I like this tea: It tastes good, and it's good for you.
I'm still a tea novice, so I add honey and sometimes milk to the tea, but my husband doesn't need to add anything to his. The flavors are all great and can be served hot or cold.
My favorite is the Harvest Chai Spiced Tea. It tastes how coziness feels and transports me to an alternate world, where I'm sitting comfortably in front of a frost covered window, wrapped in a cashmere blanket with a gentle fire at my back. I actually forget for a moment that I'm really sitting on a stool in my kitchen, watching my toddlers unload every item from their toy chest in the living room, with my back turned to a pile of dishes. Also, I suspect that a splash of spiced rum in this tea would be divine.
Besides other great flavor blends like Lemon Ginger Mint, Hibiscus Rose Berry and Holiday Spicemint, Dr. Rosemary offers therapeutic herbal teas designed to enhance general health or target specific ailments and conditions. There's a Breast Milk Booster, Day is Done Relaxing Tea, Weight Loss Detox blend, Lovers Instinct libido booster, Constipation Ease treatment and Better Menopause blend.
I tried the Day is Done Relaxing Tea, and genuinely felt more calm after having it. My body felt heavier than usual as I fell asleep. The Weight Loss Detox blend is my second favorite flavor, and I'll admit that I justified not working out the other day because I drank the tea instead. My husband and I also tried the Lovers Instinct tea, and while we didn't notice a fire growing in our loins, it's now his favorite flavor, and it can't hurt to drink, right?
I did check with Dr. Rosemary on the safety of using these teas as herbal therapies. She is a Nationally Board Certified Acupuncture Physician trained in Traditional Chinese Medicine (TCM). Her studies included traditional pre-med type classes like anatomy, physiology and prescription pharmaceutical toxicology as well as herbal medicine indications, interaction and dosages.
While pregnant women should always check with their doctor before starting a new regimen, these blends are safe for the rest of us to drink regularly (but maybe save the constipation one for "as needed," and wait until evening for the Day is Done relaxing tea). Interestingly, men can drink any of the blends, even the ones targeted for women, like the Breast Milk Booster. Actually, if I may put in a request, please serve your partner the Breast Milk Booster and record his face when you tell him the name of the tea. I'd imagine it'll be priceless.
Here are some other tips from Dr. Rosemary:
Keep your favorite flavor chilled in the fridge for a hydrating, healthy alternative to plain water. These herbal teas are organic, have no calories (unless you add a sweetener, like I do), and they're caffeine-free, so they're great to drink day or night.
Kids love these teas, too! My kids couldn't get enough of the Harvest Chai, and the Hibiscus Rose Berry is a crowd pleaser. Add a little honey or Stevia for a touch of sweetness, and watch your kids gulp up this pretty red berry tea. Be cautious about serving any of the therapeutic blends to kids, but the flavor blends are all fine. An added bonus, the ones with ginger, like Lemon Ginger Mint, are great for soothing upset tummies.
To maximize the benefits of these herbal teas, boil fresh, filtered water and let the tea steep for three to five minutes. This is a slightly different preparation than you might be used to if you drink black, green or white teas. Those are best steeped in simmering water at 185 degrees Fahrenheit.
To make a large batch of tea, use a tea pot with an infuser or a French Press. Dr. Rosemary has a great gift set that includes a tea infuser and selection of herbal teas. It's now used daily in my house.
After spending a week tasting almost all of Dr. Rosemary's teas, I've come to look forward to my daily tea time. I keep thinking that I should feel guilty for indulging like this, but there's really no need. These teas are organic, caffeine and calorie-free and provide health boosting benefits. Plus, they're available through Amazon Prime, so it's easy and convenient to stay stocked. It's my new, guilt-free pleasure, and I hope you make it yours, too.