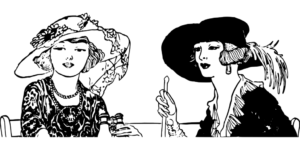 The daily grind of family life and work take precedence over all else. Once in while, I'll run into a familiar face at the grocery store or Target, and we promise to make plans, but they never seem to materialize. We send texts to check-in. We post comments on Facebook or Instagram. We play phone tag, hoping that the return call happens when we have time to talk and not chase our children around the house.
Like all of our relationships, friendships take work to maintain and require a commitment to make time for each other. A regular date with friends does just that; it demonstrates a commitment to being friends and staying connected with the people that matter most.
In an effort to keep a promise to myself this year to say "yes" more often to fun things that will keep me connected to family, friends, and co-works, and say "no" to commitments that will take me away from them, I've begun prioritizing dates with friends.
After I drop off my daughter, Isle, at daycare, I have a 25-minute drive to work, which I would usually use to think about my upcoming work day while singing 80's tunes from 103.7. My mind is always running, always trying to plan ahead. Lately, though, I've made an effort to call a friend during my commute, and now I look forward to my morning phone dates. I can just be myself and relax a little bit before my hectic day begins.
Even if I end up leaving a voicemail for friend to tell them I miss them, it's worth the call because I want them to know that they matter. (Yes, Sharon, Anne, and Judy, I miss you!) Having the Bluetooth functionality in my Honda CRV has been more useful than I ever thought because it has enabled me to stay connected during a time I would normally not consider free time. While texting or emailing are great when I need a quick response, a telephone call is far superior for conveying thoughts and feelings.
The second kind of date with friends I have committed to doing more regularly are planned outings. This could be anything: breakfast, a run, lunch, or drinks at a bar after work. I'll be honest. A part of me sometimes does not have the energy or desire to jam pack our family's week with social activities. At the same time, I love spending time with friends and hopefully my daughter does, too. So, we plan outings. All planned outings go on my husband and my joint calendar, and I cross-check this calendar for planning our weekly meals. Even fun times require coordination after having a baby!
I try to limit planned outings to a few times per week to make sure we get enough downtime. Sure, a ton of work can go into planning an outing with a friend, but it's worth the effort all the same, particularly with friends who are also parents. For example, a few weeks ago, my husband and I met my cousin and his wife for our annual birthday dinner. This year marked our ninth year celebrating our birthdays together. Rather than do our usual Saturday night out, we took a 4:30 PM dinner reservation on a Sunday at House of Prime Rib, so we could accommodate our daughters' night-time routines.
It was a far different experience from our pre-kid birthday celebrations when the hardest decision we had was to pick the restaurant, but we relish this time together to chat baseball, work woes, our kids and to just catch up. Next year, for our tenth birthday together, we may even include our girls.
When I became a parent, I started looking at my off time from work differently. Everything revolved around my family, specifically my daughter. I postponed dates with friends because I wasn't confident that she would be okay without me, or I would opt to bring her with me. Now that Isle is older and has a great routine, I know where I can fit in dates with friends. I know I can leave her with her grandparents or Godparents and feel good that she will have a great time. Afterall, as much as I need time to be with my friends, she needs time to be away from me, too.