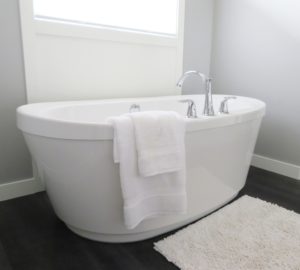 While most parents take great pains to ensure that household cleaning supplies are kept out of reach of their children, many don't realize that using these chemical-laden products to clean their homes may pose a health risk. Studies have linked the long term use of chemicals found in many common, commercial cleaning products to a number of serious health issues, including asthma, cancer, reproductive and developmental problems and allergies. Fortunately, safer alternatives exist, so it is possible to keep your house clean without relying on harsh chemicals to do the dirty work.
Make Your Own Cleaning Solutions
With a little extra effort, you can make your own natural cleaning solutions for just about any household cleaning task. San Francisco Mom's Blog writer, Jennifer Renee Chu, switched from commercial to homemade cleaning products about a year ago and swears by them. "With a bit of trial and error, I have come up with recipes for homemade cleaners that work just as well as commercial ones," Jennifer says. She also notes that she loves that her 14-month old son, her constant companion around the house, can jump in and "help out" with the cleaning without any worry about exposure to toxic chemicals. The fact that making cleaners herself is less wasteful and saves money is also a big plus.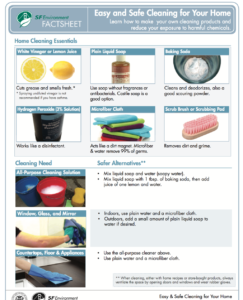 Here are a few of Jennifer's tried and trusted recipes – she recommends writing the recipes on labels stuck to the spray bottles for easy refilling — or check out the San Francisco Department of Environment's website for additional advice on making and using homemade cleaners:
All Purpose Cleaner
Combine 1/3 cup distilled white vinegar, 2/3 cup water and 15 drops tea tree oil in a spray bottle; spray and wipe with a microfiber cloth.
Bathroom Cleaner
Pour vinegar around the edge of the toilet and scrub; spray lemon essential oil.
Bathtub / Shower Cleaner
Sprinkle baking soda in the bathtub and shower; allow it to sit as long as possible – at least several hours – then scrub away dirt and grime.
Granite Cleaner
Combine ½ cup rubbing alcohol (or vodka), 1 ½ cups water, ½ tsp castile soap, 7 drops of basil essential oil, and 20 drops grapefruit essential oil (or other essential oil of your choice) in a spray bottle; shake spray bottle before each use, spray and wipe granite surfaces gently with a microfiber cloth.
Glass Cleaner
Combine 1 teaspoon dish soap, ½ cup white vinegar and 3 cups distilled water in a spray bottle. Spray on glass and mirrors and clean with a microfiber cloth.
Wood and Tile Floor Cleaner
Combine mild soap like Dr. Bronner's or baby shampoo with water in a bucket and use to clean floors with a microfiber cloth or mop.
A word of caution: before making your own cleaners, check that the mixture you have in mind will not result in a harmful reaction. NEVER mix bleach with ammonia, vinegar or other acids as these combinations can produce deadly gases.
Buy Certified Natural Cleaning Products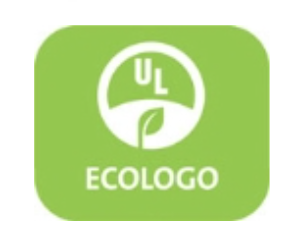 If making your own cleaning products sounds like too much work, it is best to buy commercial products that have been certified by trusted, non-profit eco-labeling organizations, like Green Seal and EcoLogo.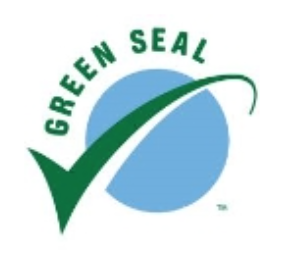 In order to display the Green Seal or EcoLogo label, products must meet rigid standards set by these organizations. Required testing and inspections ensure that products bearing the seal of certification are safe for the environment and human health.
Look for these logos or search the Green Seal and EcoLogo websites to identify certified products that meet your cleaning needs. Also, keep in mind that while many products may be advertised as "green" or "ecofriendly," often these claims are not supported. Certification is the best and easiest way to know that a product is truly safe from an environmental and health standpoint.
Avoid Products Containing Highly Toxic Chemicals
If you cannot make your own cleaning products or buy green-certified commercial products, try at least to avoid commercial fabric softeners, oven cleaners, and air fresheners, which generally contain particularly toxic chemicals.
Also, as recommended by the San Francisco Department of Environment, read product labels and avoid cleaning products containing the following chemicals as much as possible, which are linked to the most serious health issues: ammonia, chlorine bleach, alkyldimethylbenzylammonium chloride (known as quaternary ammonium disinfectants), 2-butoxyethanol, monoethanolamine, and triclosan.
You can also use websites like the Good Guide and the Environmental Working Group's Guide to Healthy Cleaning to check on the ecofriendliness of your own favorite commercial cleaning products and see how they compare to other similar products.