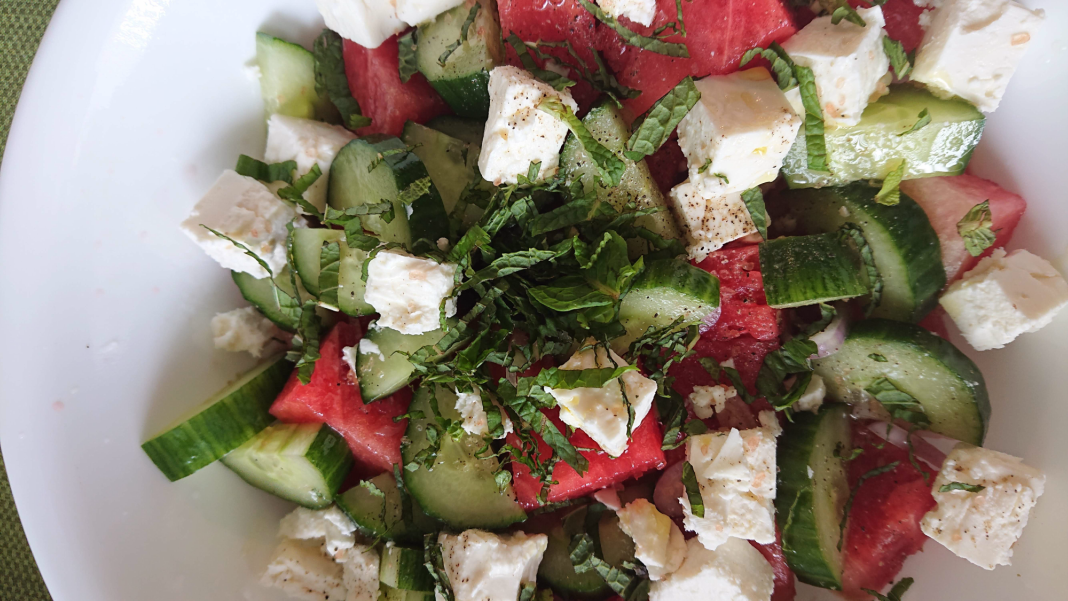 In honor of National Watermelon day on Monday, August 3, I am revisiting one of my all-time favorite summer recipe posts: Watermelon Salad. I first wrote about my watermelon salad three years ago. I still love watermelons! Their syrupy, sweet perfume is summer in a fruit. When I've had my fill of watermelon with salt or Tajin spice, I make this watermelon salad. I've updated the recipe to include melon ratios and the add-ins I have tested and loved. I've also omitted nuts from the recipe to keep it nut-free. The watermelon salad is inspired by watermelon salads I've had at my neighborhood restaurants: Pizzaria Delfina and Troya, and is fantastic for those no-cook  summer nights. As Harry Styles sings, get that "watermelon sugar high."
Watermelon Salad
Serves 4-6 (or fewer if hungry!)
4-6 cups of 1-inch cubed, peeled seedless watermelon. Figure 1-1/2 cups per person.
4-8 oz block feta cheese, broken into ½ inch chunks (don't substitute the pre-crumbled feta here, they will melt in all the watermelon juice.)
2-3 leaves thinly sliced mint (optional)
Juice of 1 lemon or 2 limes
2-3 tablespoons extra virgin olive oil (nothing fancy, because it's there to give the salad body)
1 teaspoon Kosher salt
½ teaspoon freshly cracked black or white pepper
Optional Add-Ins or Substitutions
Other fruits/vegetables (Use 1-2 cups): other melons, blueberries, strawberries, blackberries, 1 pint of baby tomatoes, sliced cucumber, thinly sliced fennel
Other herbs: basil, fennel fronds, chives
Thinly sliced shallots or red onion (rinsed before adding to salad to reduce their heat)
Red pepper flakes or chili oil (in lieu of the olive oil)
How To Make It
  Chill the serving bowl or dish in the fridge for at least an hour
  Place cubed melon and prepared fruit/vegetables in the bowl
  Add chunked feta cheese on top of fruit
  Sprinkle torn mint or herb of choice (Skip this step if omitting)
  Squeeze the juice of lemon or limes over the top
  Drizzle the olive oil over the top
  Sprinkle salt and pepper all over
  Toss right before serving and enjoy!
Notes: The salad can be made ahead of time, as long as all the prepped ingredients are kept cold and separate. Tossing the salad right before serving ensures that the salad stays crisp and pretty. The salad gets watery the longer it sits, so eat the same day you make it.